Downed Bikers Association
Bikers helping bikers for 20+ years
The Downed Bikers Association, Twin Rivers Chapter is a 501(c)(3) organization whose sole purpose is to provide support both financially and emotionally to bikers and their families that have been lost or hospitalized due to a motorcycle accident. We coordinate and execute charity events to raise funds, which we pay out to our beneficiaries 100%.
The Twin Rivers Chapter is located in the northeastern part of Oklahoma and was founded Nov 27, 2017. Our first election for all board members was held on Dec 11, 2017. Downed Bikers Association now has 6 chapters in Oklahoma – Oklahoma City, Western Plains, Tulsa, Enid, Twin Rivers (Vinita) and Foothills (Tahlequah) who has provided financial support to hundreds of motorcyclist and their families.
All Downed Bikers Association Chapters are 501 (C) (3) Public charities.

20 YEARS
On Saturday July 27, 2019 Downed Bikers Association celebrated 20 years of bikers helping bikers. All chapters came together for a 1 day event to celebrate all those we've provided emotional and financial assistance for the past 2 decades. This event was held in Oklahoma City where the founding chapter was formed 20 years prior.
JAGGER'S LAW
In April of 2006 A Senate measure to help protect motorists and make Oklahoma's roads safer was signed into law by Governor Brad Henry. With the help of the folks at ABATE, the Jaggers Family, the Downed Bikers Association and motorcyclists from around the state, Senate Bill 1929, authored by Senator David Myers and Rep. Jim Newport, created the David Jaggers Law, named after a long-time motorcycling enthusiast and active member in the Downed Bikers Association who was killed by a negligent, reckless motorist while riding his motorcycle. Under provisions of this bill, any person convicted of, or who pleads guilty to, a traffic violation for failure to yield a right-of-way and who causes a fatality or serious bodily injury will be assessed a fee of up to $1,000.00 to be deposited in the Motorcycle Safety and Drunk Driving Awareness Fund. This fee will be in addition to any other fine or penalty charged against the violator.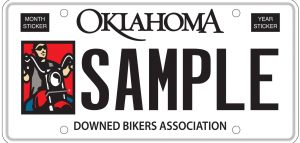 DBA TAGS
Thanks to everyone who helped us reach our goal of 100 tags. On 4-12-2019 our National board turned in over 150 applications for our DBA tags to the Oklahoma Tax Commission. You can now request your own Downed Bikers Association custom license plate for your car, truck, motorcycle, travel trailer and/or boat.
If you would like to place an order with OK Tax Commission to get your very own DBA tage you may download this form and take it to your local tag agency.